Carl Gustav Putsch founded the company as a pliers factory in 1910. The company name was Carl Gustav Putsch junr.. This seemed to lead to confusions with another pliers factory named Carl Gustav Putsch, which was established 25 years earlier, and so the name affix Quabeck was added. This was the birth name of the founders wife. In 1919 Carl von Beckfort entered the company and from now on crews and rivets were produced. At the same time the legal name of the company was changed into von Beckfort & Co.. Later, in 1931, von Beckfort left the company and Carl Gustav Putsch again was the sole holder. The established company name was held, but the company logo Ce Ge Pe was added to make the connection to the owner Carl Gustav Putsch. Henceforth, this logo accounted for the productive efficiency and quality of the company.
Investments were done, new production sited built, and the production range broadened. After 1950 an ascendant was perceptible. More rivets were produced and additionally special screws were included into the production range. Processing of special materials, aluminium, brass, heat-treatable and stainless steels completed the production program.

Today, tradition and progress motivate the third generation of the Putsch family to execute a determined management. We know that today the quality of the products stands for the performance and productive efficiency of a company.

Our goal is to supply our customers with high quality products and services. Quality and quality assurance are the essentials of our company policy.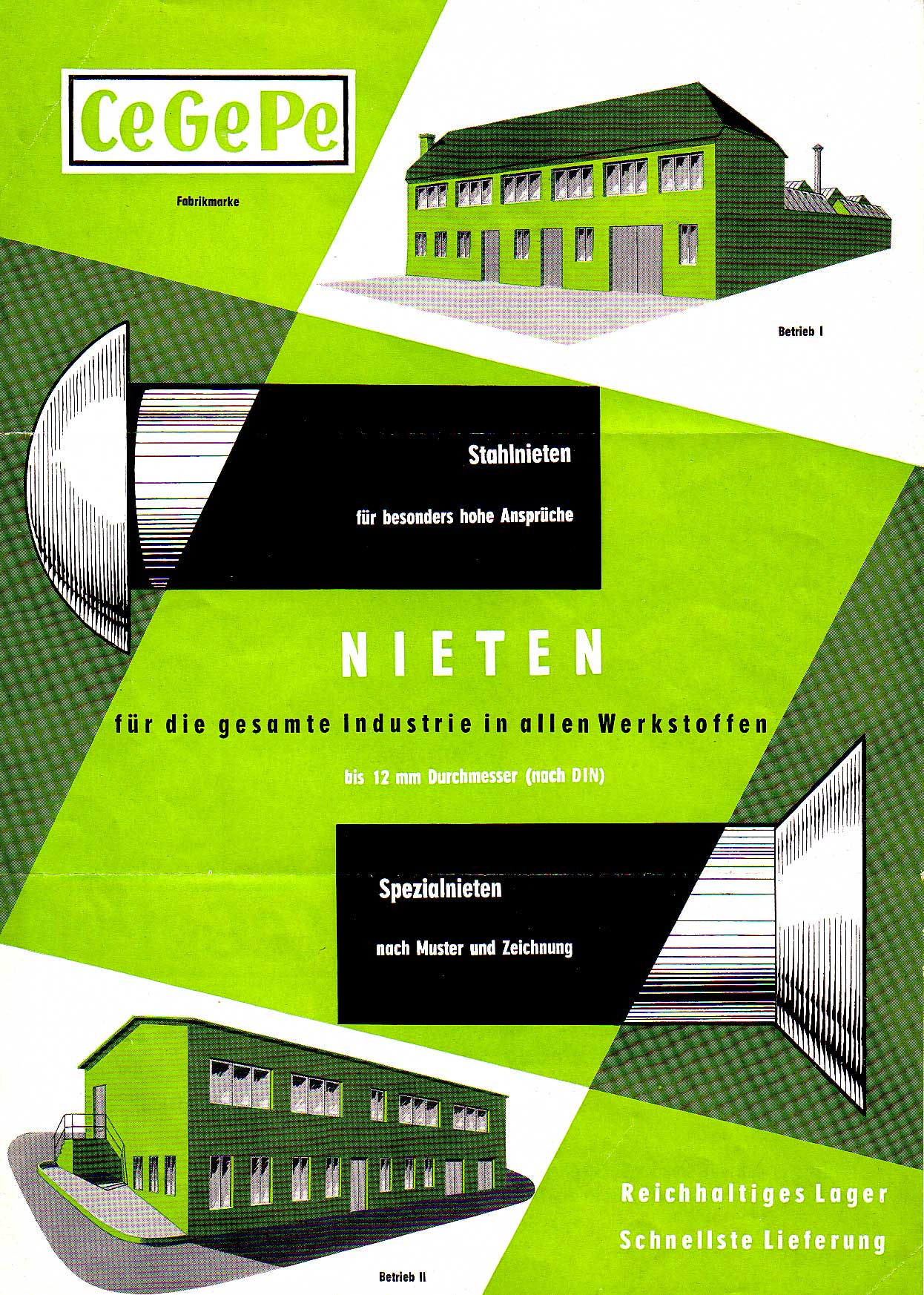 Important management functions are seen in the effort to foster the employees sense of responsibility and quality, to pinpoint responsibilities and processes, and to control the effectiveness of the quality assurance measures. As a result our company was DIN EN ISO 9001 certified by the Technical Control Board (TÜV Rheinland) in 1995. In a follow-up audit this certificate was extended until 02/28/2015.
To fulfil the increasing requirements regarding productivity and flexibility we decided to transfer the company into an industrial area.
In June 2002 Beckfort & Co. moved into a new building in the Solinger Straße 36 in Cronenberg, the district in Wuppertal that has always been the home of the company. Here a building is available that is logistically optimized. This shortens the previously necessary long transport routes.

Hereby, the company management professes Germany as a location for business and industry and therefore facilitates the preservation of jobs. Due to ongoing rationalization efforts we want to continue be effective as it is defined by costumer satisfaction and special service in the market.

On May 1st 2010 the company celebrated the 100-year existence. Guests of honour were among others:
Peter Jung Mayor of Wuppertal
Dr. Klaus-Peter Starke Director of Bergischer Unternehmensverbände e.V.
Mrs Barthel-Zorn Director of IHK Wuppertal
Frank Naumann - Professional group leader, Deutscher Schraubenverband e.V

The management proudly looks back at 100 years company history. Nevertheless, the companys tradition is not "repose on achievements", but "prepare for the future". This can only be fulfilled with satisfied customers and dedicated employees